Conductors
Stephanie Reeve - Director
Stephanie Reeve graduated from Trinity College of Music winning prizes for chamber music and woodwind performance. As a soloist and chamber musician she has given recitals, led workshops and provided background music at many venues all over the UK including Kensington Palace and No. 10 Downing Street. Stephanie has also worked as a session musician, played for many theatre productions including performances at the London Palladium and Theatre Royal Drury Lane. She now plays regularly with orchestras and chamber groups around the Cambridge area.
Stephanie teaches clarinet and saxophone in schools around Cambridgeshire and has been a coach for the Cambridge and Peterborough County Youth Orchestra and Wind Orchestra. She is now woodwind coach for the Saffron Walden Children's Orchestra. She has been assistant conductor of the Palace Band since 2002 taking over as principal conductor in 2008. She has worked as a coach for courses at Benslow Music Trust, Hitchin, and for the ACE Foundation at Stapleford Granary, Cambridge as well as running playdays across the south and east of the country. She is a coach for Walden Winds, the Ermine Street Band and she directs the Stapleford Clarinet Choir.
As a member of the Clarinet & Saxophone Society of Great Britain Stephanie contributes regularly to the journal Clarinet & Saxophone and runs the library now based in Stapleford.
Stephanie completed an MA in Psychology for Musicians in 2007 and as part of a final year dissertation compared the ways in which adults and children learn musical instruments. She continues to take an interest in the ways in which all ages learn musical instruments.
David Morris - Assistant Conductor
David studied at Durham University and subsequently at Trinity College of Music, where he graduated with a Masters degree in Performance Practice. He studied clarinet with Hale Hambleton and was Commended for his performance in Trinity's annual Wilfred Hambleton Clarinet competition.
Alongside his role as Assistant Musical Director for Palace Band, David is MD of the BWE2 Flute and Clarinet Choir based in the City. BWE2 has performed a number of David's own arrangements in venues such as St John's Smith Square. David teaches the clarinet and saxophone and, at Key Stage 2, delivers vocal and clarinet whole class teaching in North London. As a keen advocate of collaborative lifelong learning and participation in music, David has tutored on wind courses in London and at Benslow Music Trust and Morley College.
David is a past Secretary of the Clarinet and Saxophone Society of Great Britain, for whom he has written a number of articles and frequent music reviews. His writing has also appeared in Pan, Beckett - for the Malcolm Arnold Society - and Double Reed News. David is also an experienced commercial and project manager and international committee chair and has for some years acted as a business consultant for the Clarinet Classics CD label.
David joined the band in 2011.
George Sleightholme - Chamber Music Coach
George graduated with distinction from the Royal Academy of Music (MA Performance, 2010), where he received the Paton Award. As an undergraduate at King's College, London he was a choral scholar and Music Department President in his final year.
George was a Live Music Now artist from 2010 – 2014 with The Davis Clarinet Quartet and regularly enjoys performing chamber music. He is a member of the Kidenza Orchestra, which in 2015 promoted BBC's Ten Pieces scheme to over 10,000 children in the South-East. George regularly plays in other London orchestras including Brandenburg Sinfonia, Orion Symphony Orchestra, Orpheus Sinfonia, Multistory Orchestra and London Classical Soloists. As a committed performer of new music George has given many premieres, including pieces for the LSO's Soundhub scheme and for the Tete-a-Tete Opera Festival 2013.
George has just finished recording an album with his group iyatraQuartet, which uses inspiration from a range of music from around the world to create its own unique sound. George has recorded music for theatre, websites, composers and rock albums, including for Rick Wakeman at Abbey Road Studios. George teaches music privately and is Woodwind Coach for Surbiton Royal British Legion Marching Band and Chamber Music Coach for Palace Band in Alexandra Palace. He also teaches advanced clarinet and clarinet chamber music at City Lit, and adult education college in London's Covent Garden.
Caroline Franklyn - Founder, Assistant Conductor and Administrator
Caroline studied flute and piano at Trinity College of Music. For many years she worked as a freelance orchestral player, and solo performer, as well as teaching the flute. Caroline also specialised in chamber music, playing in several trios and wind quintets. She toured extensively in partnership with the renowned harpist, Sioned Williams. In 1993 she founded the Palace Band.
Caroline now concentrates on teaching in London and in Deal, and also on conducting and arranging/composing wind music. She is a regular tutor at Benslow Music Trust.
Caroline's compositions and arrangements are published by Spartan Press (www.spartanpress.com)
Four-part 'flexible' arrangements: The Agincourt Carol, More Madrigal Magic, King Arthur (Purcell) and The Hunt (Telemann).
Duets for beginner flute and clarinet with optional accompaniment: Two Boldly Blow.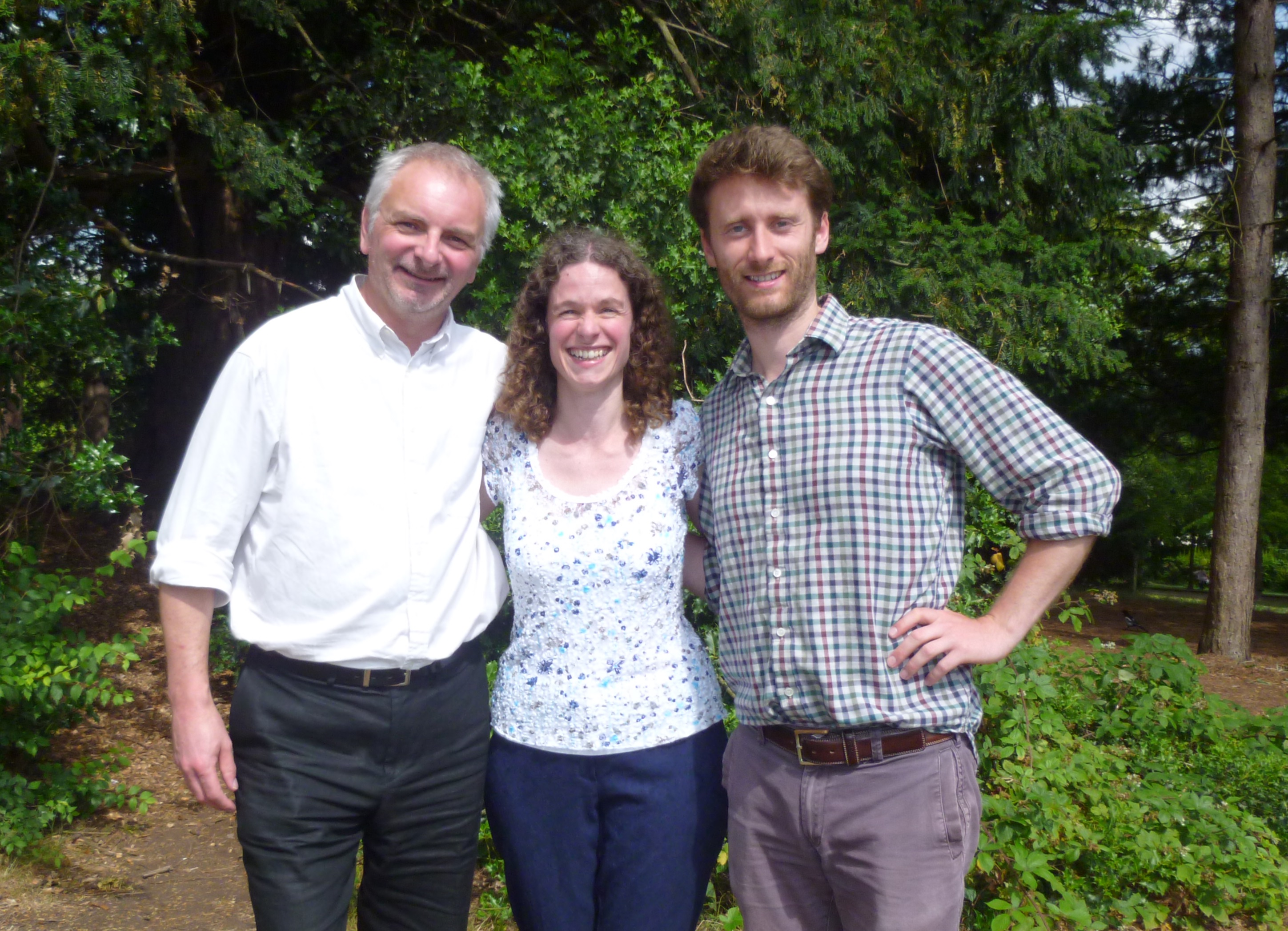 David, Steph and George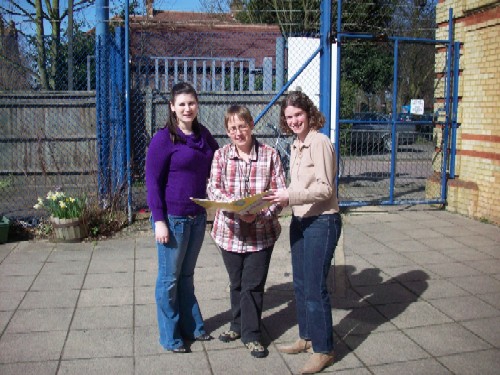 Former Assistant Conductor and Chamber Music Coach Rebecca Whitener, with Caroline and Steph in 2012